SCION Day 2022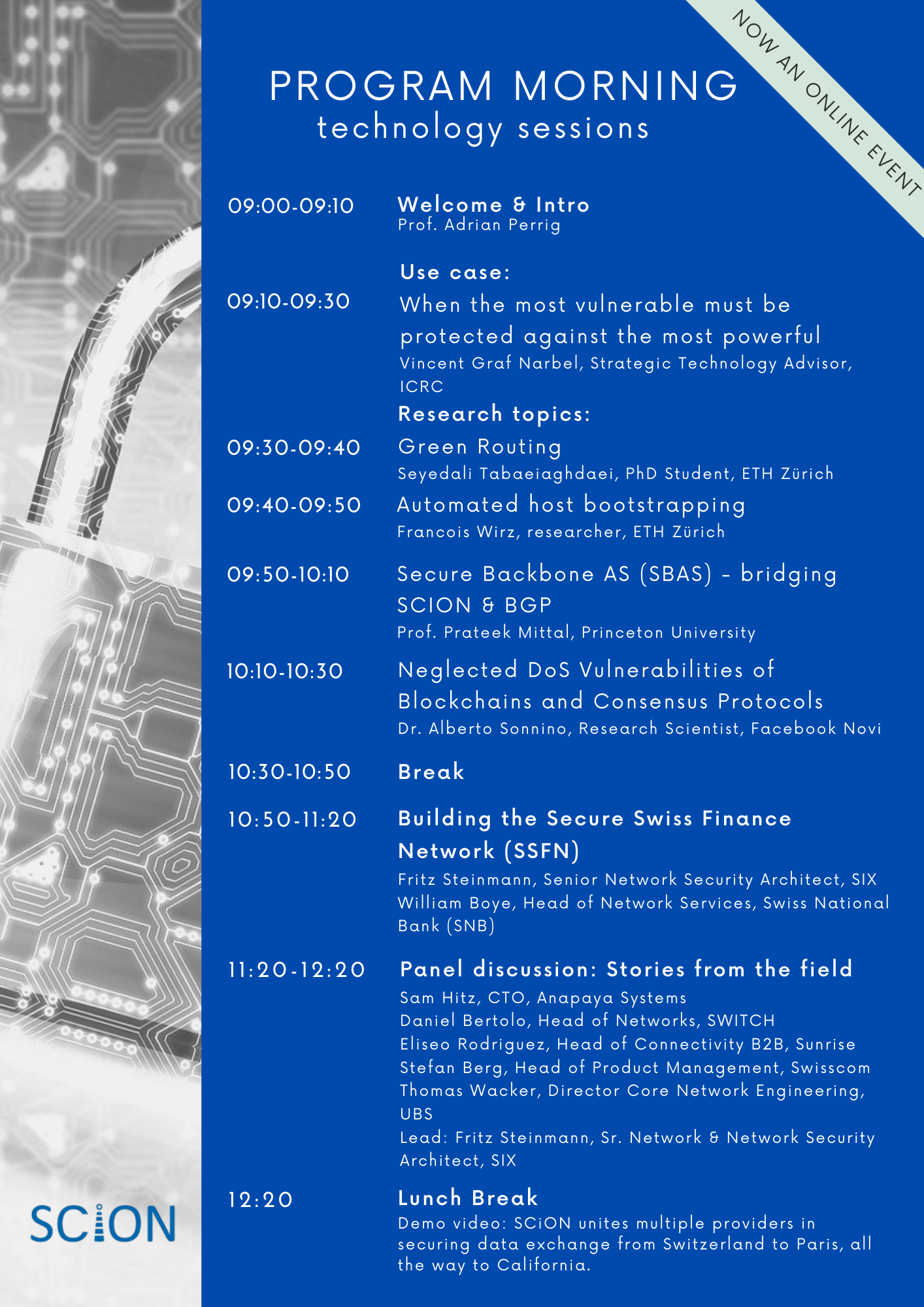 Get to know the latest developments of the SCION secure Internet Architecture in academia and industry.
The day is split in two parts. The morning comprises technical sessions that cover the latest advances in research and industry deployments. The afternoon focuses on the latest business developments and opportunities around SCION.
26 January 2022
ETH Audimax,
Rämistrasse 101, 8092 Zürich
and on livestream. All times are in CET.
Technology and research sessions - Morning
9:00 Welcome and introductions
9:20 Use case: When the most vulnerable must be protected against the most powerful. Vincent Graf Narbel, ICT Innovation Officer, ICRC
9:35 Green Routing Seyedali Tabaeiaghdaei, PhD Student, ETH Zürich
9:45 Automated host bootstrapping Francois Wirz, researcher, ETH Zürich
9:55 Secure Backbone AS (SBAS) - bridging SCION & BGP Prof. Prateek Mittal, Princeton University
10:15 Neglected DoS Vulnerabilities of Blockchains and Consensus Protocols Dr. Alberto Sonnino, Research Scientist, Facebook Novi
10:50 Building the Secure Swiss Finance Network (SSFN) Fritz Steinmann, Senior Network Security Architect, SIX William Boye, Head of Network Services, Swiss National Bank (SNB)
11:20 Panel discussion: Stories from the field Sam Hitz, CTO, Anapaya Systems Daniel Bertolo, Head of Networks, SWITCH Speaker from Sunrise Speaker from Swisscom
Business sessions - Afternoon
14:10 SCION, Quo Vadis? Prof. Adrian Perrig, ETH Zürich
14:20 SCION, strategy and vision
Florian Schütz, Federal Cybersecurity Delegate National Cyber Security Centre
Martin Bosshardt, CEO Anapaya Systems
Olaf Swantee, Telecom Executive former CEO EE, Sunrise
Prof. Vanessa Wood VP Knowledge Transfer and Corporate Relations, ETH
15:25 Roundtable discussion: Industry Innovators and Early Adopters of the Secure Swiss Finance Network (SSFN) SIX, participating banks
16:20 Panel discussion: Enabling ecosystems to safely communicate Robi Wigger, Chief Business Officer, Sunrise-UPC Egon Steinkasserer, CTO, Swisscom B2B Martin Leuthold, Management Board, SWITCH Adrian Anderegg, Partner AWK Group
17:00 Distinguished Guest Speakers
Dr. Andrea Maechler Member of the Governing Board, Swiss National Bank (SNB)
Organisers
The event is organised in collaboration with: